Past Community Partners Projects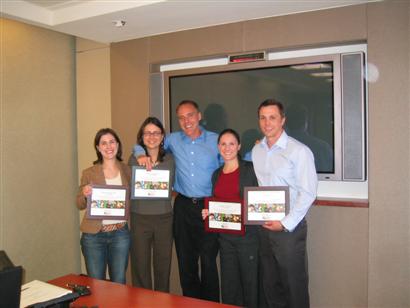 "Community Partners offered a true sense of partnership, mentorship, guidance and community. From our first planning meeting, we felt the immense privilege of their interest in assisting us with transforming our alumni movement. As a new team charged with setting a vision for this nuanced work, it is with sincere gratitude, that we recognize the significant impact that the Community Partners Team has had on our ability to serve our alumni community. Additionally, the final report was not only tremendously useful for our regional team, but has also been shared nationally within the [National] organization and is now a guidepost for many…teams across the country."

Teach for America Los Angeles -- http://www.teachforamerica.org/where-we-work/los-angeles
The Los Angeles chapter of Teach For America placed 340 total teachers in 2013 and has over 1,700 alumni living in the area. While the chapter is robust, it faces some unique challenges relative to its peers when trying to engage with its alumni. The sheer size of Los Angeles' geography and the large age ranges of the former corps members residing in the area make impactful programming/gatherings more difficult. Additionally, recent events in local school districts have limited Teach For America, Los Angeles' ability to place teachers in traditional schools.
Community Partners Team created an alumni engagement strategy, provided insights on improving the alumni value proposition, and suggested efficient ways to institute the new strategies.
Alliance College-Ready Public Schools -- http://www.laalliance.org
Alliance College-Ready Public Schools is the largest nonprofit charter organization in Los Angeles, comprised of 21 free, public charter high schools and middle schools serving over 9,500 low-income students. Alliance employs the highest achievement standards and latest innovations in technology to prepare its students for success in college and future careers. Since its founding in 2004, more than 95% of Alliance graduates have gone on to college.
Alliance sought help from Community Partners to improve the efficiency of its food service operations to free up funds that could be used for essential school programs, services and activities.
Pasadena Symphony & POPS -- http://www.pasadenasymphony-pops.org
The Pasadena Symphony & POPS provides Los Angeles and the San Gabriel Valley with a full spectrum of live symphonic concerts year-round. It is one of the top performing symphonic ensembles in Southern California, comprised of some of the most gifted and sought-after musicians from the film industry.
The Pasadena Symphony & POPS tasked Community Partners with helping to refine its marketing strategy so the organization could better highlight its unique and distinguished music offerings.
Hollywood Arts -- http://www.hollywood-arts.org
Hollywood Arts provides arts education, job readiness programs and industry internships to homeless and at-risk youth. Its programs are designed to improve the self-esteem of its participants while providing them with essential skills to be self-sufficient.
Hollywood Arts sought help from Community Partners to develop a business plan that would simultaneously provide the organization with a sustainable revenue stream while also employing the talents of its students.
CORO LA -- http://www.coro.org
Coro is a national organization that trains leaders for civic life. Approximately 1,000-1,200 participants per year go through Coro programs nationwide. At least 10,000 program alumni are currently serving as leaders in local, regional and national/global businesses, nonprofit organizations, governmental agencies and elected public office.
Coro Southern California asked Community Partners to develop a marketing strategy that would help it improve the reach of its services and leverage new media.
Small Business Consulting Project
This Community Partners pilot program helped a small local business in the healthcare industry improve cash flow and source more patients. The Community Partners team put together a comprehensive plan for the business to streamline insurance claims, acquire new patients and incentivize staff based upon patient satisfaction and retention.
Lung Cancer Foundation of America -- http://www.lcfamerica.org
The Lung Cancer Foundation of America (LCFA) seeks to increase the five-year survival rates of all stages of lung cancer by providing the necessary and critical funding for creative, collaborative, translational and leading-edge lung cancer research programs. Lung cancer is the leading cause of cancer deaths for both men and women, yet receives very little federal and private sector funding. While lung cancer is generally viewed as the "smoker's cancer," approximately 10% of newly diagnosed patients have never smoked and 50% have not smoked in more than 10 years.
The LCFA sought help from Community Partners to develop a marketing plan to leverage its existing resources and further develop its outreach.

Los Angeles Ronald McDonald House -- http://www.larmh.org
For almost 30 years, the Los Angeles Ronald McDonald House has served as a "home away from home" for families whose seriously ill children are receiving medical care in the area. To date, it has provided well over 20,000 families with a safe and secure place to stay, useful programs and services and, when necessary, much-needed financial support. Despite its well-known brand, the Los Angeles Ronald McDonald House derives only a small portion of its operating budget from the McDonald's Corporation, local franchises and local businesses. A shortage of consistent large donors, the tough economy and increased financial obligations because of increasing room capacity resulted in the staff and board spending a large amount of their time on fundraising.
The Los Angeles Ronald McDonald House asked Community Partners to help develop strategies to take the risk and uncertainty out of its fundraising proces
The Children's Nature Institute -- http://www.childrensnatureinstitute.org
The Children's Nature Institute is a nonprofit organization that provides environmental education programs to 15,000 children, parents and teachers every year. CNI planned to upgrade the nature center in Franklin Canyon Park.
CNI asked Community Partners to address strategic questions related to its new center, including answering questions about differentiation, income streams, financials, partnerships and systems.
Los Angeles Regional Foodbank -- http://www.lafoodbank.org
Founded in 1973, the Foodbank has grown to become the largest local "wholesale" distributor of food and product to charitable agencies throughout Los Angeles County and one of the largest food banks in the U.S. As a member of America's Second Harvest, the Nation's Food Bank Network, the Foodbank is involved with the largest domestic charity focusing on hunger in the U.S. The Foodbank is also a member of the California Association of Food Banks, and locally the Foodbank is a member of Emergency Network Los Angeles (ENLA) and partners with other organizations.
LARFB asked Community Partners to help assess the implications of recent changes in the food donation world, and to make recommendations for the LARFB.