HBS Angels Southern California: March 2013 Pitch Event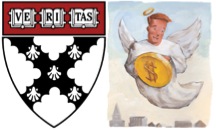 The HBS Alumni Angels of Southern California will be hosting their March 2013 Pitch Event on Thursday, March 21, 2013 at 6:30pm. Please save the date. Location details will be available soon.
Beginning at 5:00 PM on March 21st, we will be having a due diligence meeting to hear due diligence reports from companies that presented at the last pitch meeting. The cost to members of the HBS Alumni Angels is free for this event; non-members of the HBS Alumni Angels are $35. There will be no tickets available at the door - you must have registered and paid (if applicable) online beforehand.

Space is VERY limited for this event. HBS Alumni Angels members will get priority.
If you are interested in joining HBS Alumni Angels of Southern California or want more information, please contact: marknschwartz@gmail.com.

Date:
Thursday, March 21, 2013
Time:
6:30 pm for Pitch Meeting
5:00 pm for Due Diligence Meeting
Location:
Bryan Cave
120 Broadway, Suite 300

Santa Monica, CA 90401-2386

Cost:
$0 HBS Alumni Angels Member; $35 Non-members

Register:
Click here to register

Any questions, please email Mark Schwartz at marknschwartz@gmail.com.

Thanks to our friends at Bryan Cave for sponsoring!

Who are the HBS Angels?
HBS Angels of Southern California, founded in 2011, is comprised of Harvard alumni interested in investing in early stage companies. HBS Angels is open to all Harvard alumni, not just HBS graduates. The companies in which we invest do not need any Harvard affiliation.

HBS Angels started as a special interest group formed by the HBS Association of Northern California. The companies backed by HBS Angels' members include: ShopItToMe, RepairPal, S Two, and Grouply (acquired by Oodle).